We aim to reach all the parts of Bangladesh with our organic items. The availability of Courier agencies in our country eases our aim to be implemented. We typically deliver our products through Courier agencies.
Customers need to pay the delivery charge for their products. But the delivery charge is not fixed rather it depends on numerous issues like which Courier service you prefer and how many products you want, the amount and gross weight of products, and your location.
You will be notified of the delivery cost of your order before your product is delivered to your destination. Delivery cost will be reflected on the shopping cart or payment page if you Order via the web.
Mail us or phone us to know more about the delivery method and cost. our commitment is to deliver your product safely in time to your address with great care and actual condition.
Our delivery related policies are as follows:
1. We don't take orders and deliver products during off days and closed hours.
2. Courier agencies need 48 hours at least to deliver it to your hand. So please be patient.
3. If you order any product after the afternoon we will courier it on the next day.
4. If you don't find your product within 7 working days of your order don't delay informing us instantly.
5. Multiple deliveries cost and order is needed to deliver products in multiple places.
6. You will be notified via mail, phone call, or message before delivery.
7. In case of "force majeure" like Act of god, earth quake, civil war,  political violence, strikes, disasters your order may need extra times to be delivered to your destination.
Our courier agencies are:
A. SA Paribahan
B. SundarbanParibahan
Join our newsletter,so that we reach out to
you with our best news and offers.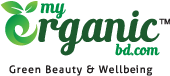 A 360-degree green beauty & well-being eCommerce for Authentic Natural Super Foods & Organic Products with tailor-made services like Dieticians, Dermatologists, and Personal Wellness.